Sometime back, I wrote about Getting Involved in Open Source. Since then, I've been wanting to take Scott Hanselman's advice on board but to date I have not found a particular project that I felt comfortable participating in or one that fit all my interests. If you look at how much is available out there it is a bit overwhelming! As a result, while still trying to decide which open source project I wish to participate in, I figured maybe I should start working on something of my own.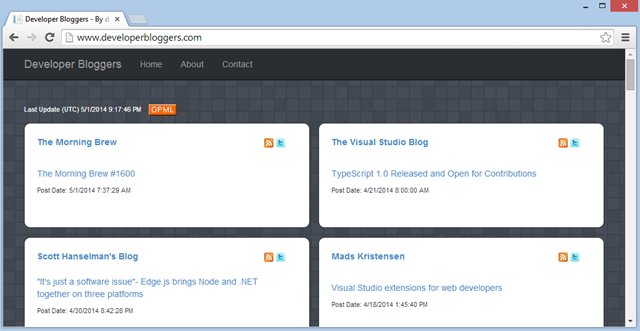 As a software developer, one of the things I like to do on a regular basis is to read blogs. However, with so many bloggers and different resources out there it can be hard to find blogs to follow, especially when they are not very well known ones or ones that are not in our immediate circle of connections such as of local user group members, tech employees …etc.
This is where developerbloggers.com comes in. The basic idea of the site is to help you find blog resources and to help bloggers be found also. Reading this, you will probably say the idea isn't very new. That's true in some way. However, the goal of developerbloggers.com is not to be a content curator. You can find out more about developerbloggers.com on the About page.
It's still early days for the site, but rather than wait for it to be perfect – is there such a thing? I decided to put the idea out there now. I hope that you all find this site useful and I look forward to it becoming a useful resource for you and me for our daily blog reading habits. Here are some of the ideas as mentioned on the About page.
The intention of this site is to provide a way for bloggers to be found and have their content read and discovered easily. Rather than a content curator and inspired by Scott Hanselman's post – When is it stealing? – we hope we can drive users to you!

Below is a list of ideas some for the site we are looking to implement

– Ability to extract an OPML/XML list of bloggers to add to RSS feed readers

– Addition of twitter profiles for bloggers that also tweet

– Form to allow users to add their own developer blogs to the list

– Add categories to the blogs to allow sorting/filtering by them

– Personalised user profiles/logins to allow users to mix and match and pick blogs that math their own liking and export these to an OPML file

– Adding the Microsoft/MVP logos next to blog profiles of Microsoft employees or MVP bloggers

– Improved web design/layout

– Open Sourcing the code of the website so you can also contribute to the project and help make the site better

– Dedicated device apps for getting the site's content

– And more…
In the mean time, while other features are still WIP, if you know a blog that should be on this site which currently isn't part of the OPML list or have any ideas for making the site better then please share it in the comments or contact me via the Contact page.
Let me know what you think.